We've gathered all the information you'll need about:
COURSE KIT LISTS
Wondering what to bring with you for one of our courses? Our kit lists offer a rough guide to what you may need. Our Instructors tailor our courses to the conditions as well as the aims and confidence of the group, so our kit lists account for a wide array of possible options
STORES
Our stores are extensively stocked with amazing gear that you can borrow, whether to supplement your own kit or if you just want to try out something different before buying your own. Much of it comes from our partners who provide us with durable and high-quality equipment
PLANNING YOUR OWN ADVENTURES
Packing the right stuff for your own adventures means you can enjoy being in the outdoors safely and responsibly, with the comfort of knowing you've got what you need should an emergency arise. Scroll down for tips from our Instructors about essentials and handy extras
GLENMORE LODGE

COURSE KIT LISTS
You can find a recommended kit list for your course on the same page you booked it, or download the below documents for an overview of what you may need for your course by discipline
Preparing right for the outdoors sometimes feels as challenging as actually getting out there itself. Our course kit lists aim to give you an idea of what you need to bring when you come to visit us. Because our courses are typically adapted to suit the experience and aims of its participants, as well as the prevailing conditions, our kit lists include a wide array of items that you may not find necessary during your time at Glenmore Lodge. Please check the kit list on your course page in case there is specific information to note, particularly for NGB training courses and assessments.

---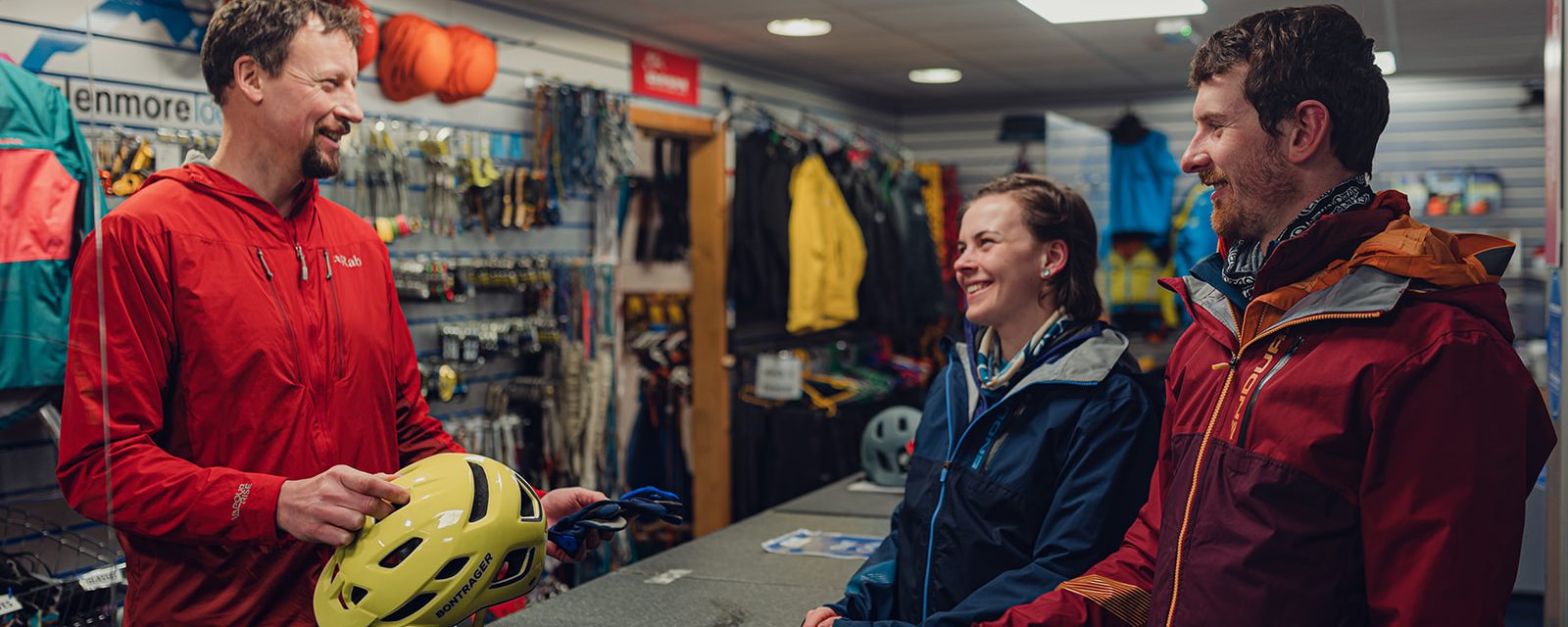 WHAT CAN I BORROW FROM STORES?
If you're short a couple items off the kit list for your course, our Stores can provide you with whichever of the following items you need.

Glenmore Lodge will provide all technical equipment on a skills training course (e.g. ropes, climbing gear).

If you are coming to us for a National Governing Body qualification training course or assessment, you may be expected to bring your own equipment (but will still be welcome to borrow from Stores as needed).
OUR PARTNERS
Much of the gear available for you to borrow from our Stores is purchased from or supplied by our Partners. Find out who we work with and why we trust their products to deliver for the challenging conditions of the Cairngorms
LEARN MORE
Look after your kit
While you're at Glenmore Lodge, check out the Rab Self-Service Centre. Collect wash or re-proofing solution from our Stores team, and use our facilities to take care of your favourite gear and make it last longer for free.
LEARN MORE
---
Just here for advice on packing for your own adventures?
We've got you covered. Check out the various videos and blogs below to get some top tips from our Instructors about what to bring with you to ensure you can enjoy the outdoors comfortably and responsibly
SUMMER HILLWALKING
Senior Instructor Jon Jones talks through what he tends to carry in his rucksack for a day out on Scotland's hills during the summer months
WATCH ON YOUTUBE
ESSENTIAL ROCK CLIMBING KIT
Though it takes time to acquire rock-climbing gear as it can be expensive and needs a bit of research, most of the gear will last you many years of climbing adventures. Take your time, prioritising the essentials and adding to this gradually to complete your climbing rack and ropes
READ
WINTER HILLWALKING
Winter conditions can be challenging and require that you carry a few key extra items. Senior Instructor Jon Jones talks through what he tends to carry in his rucksack for a day out on Scotland's hills during winter
WATCH ON YOUTUBE
SEA KAYAK EXPEDS
Learn how to prepare for sea kayak expeditions with advice from Senior Paddlesports Instructor Giles Trussell
READ