Autumn River Kayaking
As summer draws to a close, we're starting to anticipate autumn river kayaking adventures. It's worth thinking ahead about how we can prepare for these upcoming white water days, while the river levels rise and temperatures fall as the seasons change. Senior Instructor Giles Trussell, delivers a wide range of paddlesports courses, including British Canoeing qualifications and skills courses for paddlers looking to improve their confidence and abilities. In this blog, he shares some key things to think about to make sure we're ready for what autumn holds.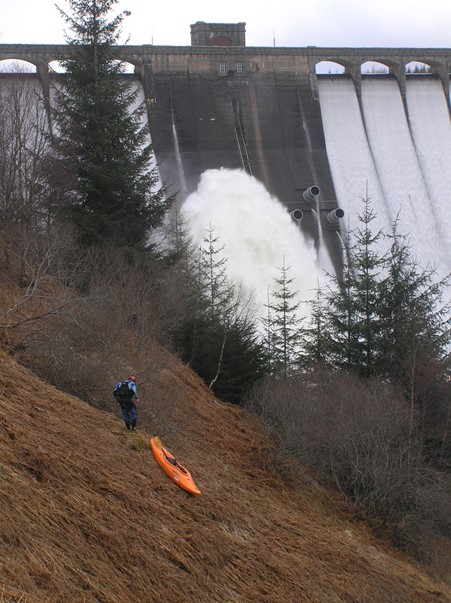 The rain(bow) is coming
Out go the shorts, shorty cags, and thin shoes…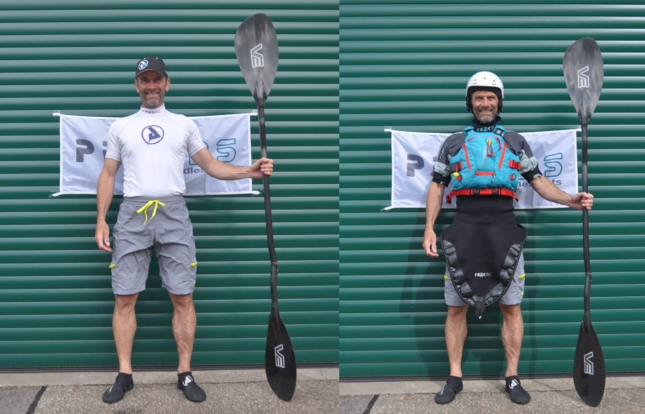 … on go the onesie, dry suit, thick socks, and solid boots.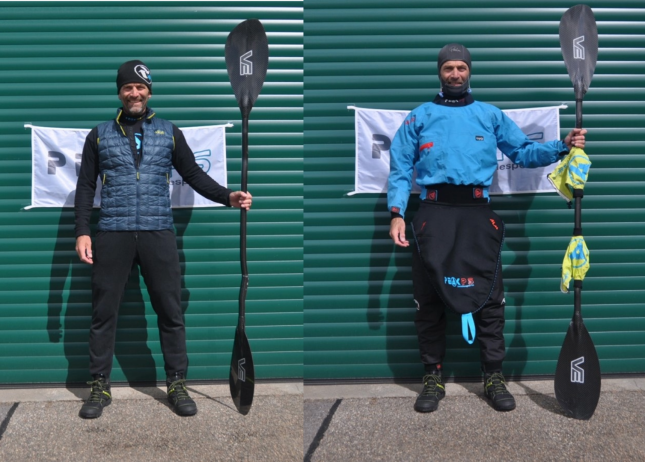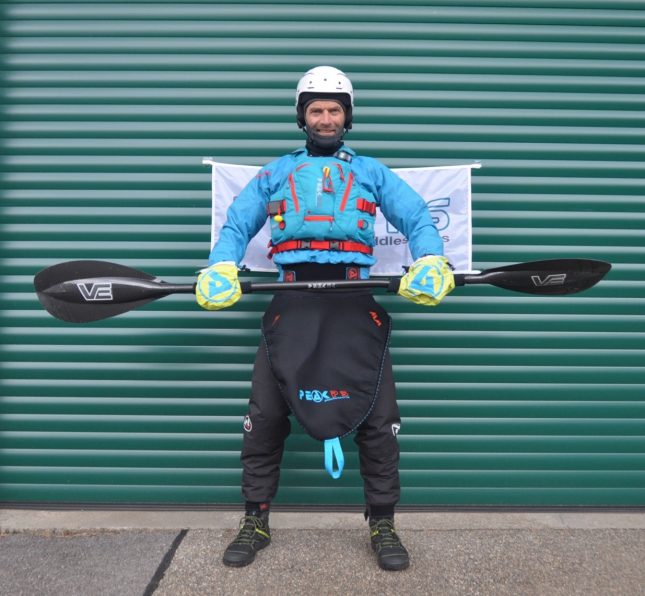 Many of us have had a summer of warm waters with low flows. We have worn shorty cags, paddling shorts, thin thermals – perhaps even lycra. We have paddled sockless in wet shoes. The air has been warm, the winds light, it has been fun in the sun.
The first cold weather arrives in the mountains and suddenly it is back to the reality of a new mindset where we are not just challenged by the water but by the whole environment that wants to wrap itself around us. It is a shock to all our systems.
Looking after your gear
it is a useful time to pull out the cold-weather gear and check it all before that first autumn river kayaking foray. There was a time when I was less diligent, and I would pull out a cag and find the wrist seals had perished or the mice had made home. I now treat my seals with a solution (see here: Seal Lubricant – Northern Diver Rescue – Water Rescue Equipment) that keeps them in good condition and store any kit in a rodent-proof container. It's also worth maintaining any dry zips with 'Zip Tech' or similar products.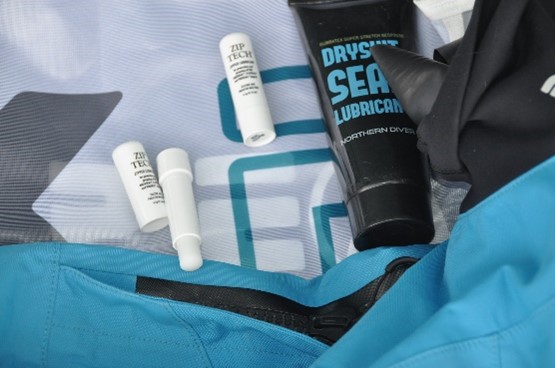 Stay warm to perform
As with many sports, we need to 'stay warm to perform'. The right level of warmth brings with it physiological performance advantages as well as psychological comfort. For Autumn river kayaking, it is not a case of 'be bold start cold'.
Managing temperature from head to toe while river kayaking all comes down to a few basics – environment, equipment, tactics, activity & skill level, nutrition, and your psychological approach.
We also need to be prepared for if things go wrong; cold water immersion brings with it added challenges.
Environment
We cannot control the environment, but we can plan and prepare for it:
Check forecast and river levels
Read the beta from guidebooks and online
Clothe yourself according to the weather, water temp and expected energy usage of paddling
Expect the unexpected – the first gales and floods after the summer often shift things; trees move, boulders change rapids
There may have been some summer engineering works completed or started, altering the river's characteristics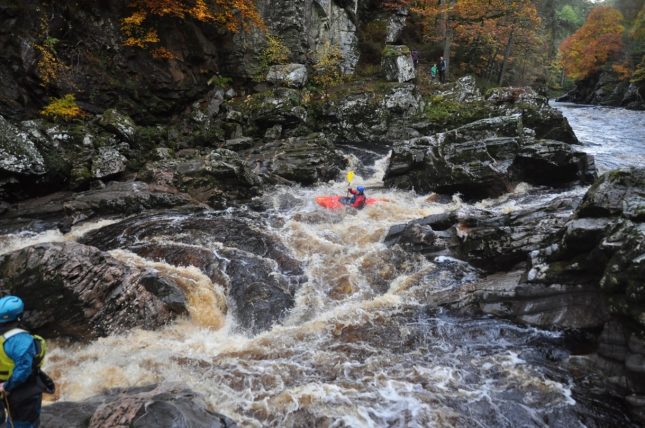 Equipment
This is where it is worth investing in some good quality equipment. Our Instructors rely on Peak PS kit, and customers on Glenmore Lodge courses can borrow the same from our Stores. Not only will you look good, but you will physically feel the benefits.
Make sure your kit is the right size. Avoid layers that are too loose that do not insulate well, or those that are too right and restrict circulation leaving skin close to a cold surface
Head. An insulated helmet with good internal padding and ear flaps combined on a cold day with a neoprene skull cap or balaclava can make a world of difference. The balaclava I use stops the 'neck flush' of cold water I sometimes get because of my sinewy neck which creates entry channels for water.
Ear plugs. Having had both ears operated on for "surfers' ear" I now wear moulded earplugs. Take preventative action now and use them especially in the cooler months.
Hands. Ever found your hands losing function due to the cold? Pogies or paddle mitts are great for letting hands warm up. Keeping forearms and wrists warmer will help hand temperature and ultimately performance so make sure your sleeves cover right down to your wrists.
Feet. Get cold toes? Thick socks or calf length socks can help, but make sure your river boots are a half size bigger and have a solid sole. In the UK many of us boaters have a trait of keeping our feet dry as possible. Dry feet will be warmer feet and I do try and keep them this way for as long as possible.
Layers. One or two thermals, onesie or fleece trousers, synthetic warm gilet for the really cold days.
Dry suit with pee zip and spray deck skirt. If that is too costly, a good set of chest-high waterproof salopettes and a bomber cag with latex wrist and neck seals is advisable.
Spray deck; watertight and well-fitting. The dryer your can keep yourself the warmer you will remain.
Buoyancy aid. Sufficient to carry some of my safety kit, a sling and karabiner, knife, whistle, phone in a waterproof case, and sometimes a saw.
Kayak. Have you the right kayak for the water you're paddling? Are the airbags intact and have you some bow buoyancy?
Safety Kit. (see below!)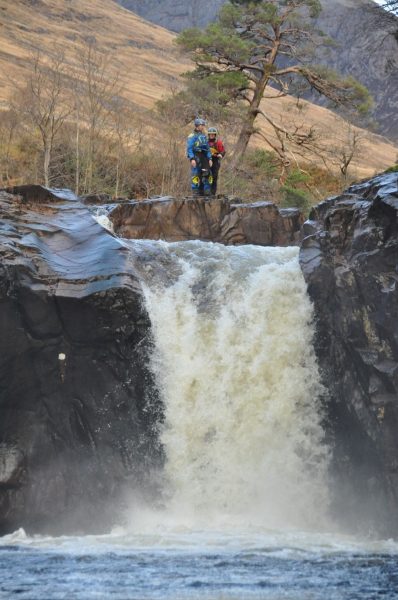 Tactics
Some suggestions and things to bear in mind depending on the type of autumn river kayaking day you're planning:
Long paddle section. Run the river, plan not to roll to many times.
Short section(s). Park and play, do laps.
More than one river in a day? Take time in the vehicle in between to warm up and refuel yourself.
Plan your start time carefully as days get shorter. Get on the water early so you aren't caught out by early sunsets.
Often at lunch stops, it's a good time to consider the following to tactically manage your environment:
Keep my pogies covering my hands
Choose a stop out of the wind and in the sun
Make the stop brief – long enough for food and a comfort break
Check in on the team and ask how warm everyone is
Adjust layers as necessary
Monitor the river level while you are stopped – a small riverside cairn or a stick in the sand can rise if the river level is rising or falling
Activity & skill level
RAMP warm ups become more useful and important when autumn river kayaking. Raise the core temperature and neurological pathways, Activate the major muscle groups, Mobilise key joints, and Potentiate the key movement patterns/linked strokes.
Once you are warm, keep warm by maintaining the right level of action that does the job for you. If you feel yourself cooling down, be bothered. Get more active, put pogies on, or add that extra layer. Even on benign water, do some flat water drills to keep warm and moving. When you first head out for some autumn river kayaking, you may find that you aren't quite paddle fit or some skills may have faded. That is okay and natural, just plan to build these areas up again and be aware of it when planning those first days out.
It can be worth spending some time learning or practicing your rolling skills. Glenmore Lodge offers 2-day Rolling Clinic courses to help you with this essential skill, or you can watch our series of instructional videos on Youtube.
Nutrition
Make sure you have eaten well for the day ahead, carry high energy snacks and eat during the day, and carry a flask of hot drink.
Psychology
Knowing you have planned well, have the right equipment, and the team with you are equally well prepared will all contribute to a positive mindset for the day.
Engender a good supportive team ethos where everyone helps everyone. Look out for one another.
Plan to your strengths on the day – remember you are doing it for fun!
Safety Kit
Fully charged mobile phone in a dry bag with mapping app installed.
Be aware of the safety kit carried in the team. Never assume someone else has got it covered.
Blizzard bag or jacket, torch, first aid kit, hand warmers, woolly hat. Combined together these can resolve many challenges.
Basic boat repair kit and splits/breakdown paddles in boat.
Sling and karabiner, throw-bag and knife.
Reflections
Remember it is always useful to reflect on your day of autumn river kayaking. Make note of any changes that may need to be made, or what went well. To support this here are a few key questions you can ask:
What did not go well, and why?
What will you do differently next time and why?
What kit adjustments need to be made and why?
What did you 'get away with'?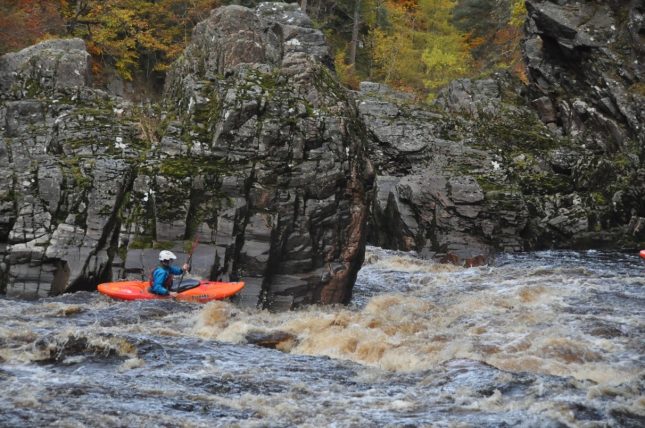 ---
Autumn River Kayaking Adventures with Glenmore Lodge
It's not too late to join us on our upcoming autumn white water kayaking courses.
Improver White Water Kayak (2 Day) – Glenmore Lodge – spend 2 days developing your skills and confidence on grade 2 white water, with the occasional grade 3 rapid
Advanced White Water Kayaking – Glenmore Lodge – ready for more of a challenge? Over 5 days, our Instructors will support you to develop your paddling skills to safely paddle grade 4 water
You can find our full offering of white water kayaking courses below:
Outdoor Adventure Scotland | Glenmore Lodge | White Water Kayak