Planning a Winter Mountain Day
Being prepared, planning, and going out and enjoying a good day in the mountains during winter takes a bit more time and thought than at other times of year. Here's a rough checklist of things to think about when planning a winter mountain day out.
Preparation
Aspiration
This is a fun stage – starting with a winter ambition of a certain mountain or mountain region that you wish to explore. This might be in a team with friends, or as a solo walk. The hills in winter can be serious and it's important that all the key aspects including conditions, ability level, and route choice are all aligned to make sure you have an enjoyable and safe day out. It's also worth bearing in mind that the more you operate in the mountains during winter, the more your confidence and understanding will grow. If you've got big ambitions, build up to them slowly and enjoy the process! This way you can test your systems without too much risk and become more confident for achieving your bigger plans.
Skills & Equipment
When the hills are covered by snow in winter, a different skillset is required to be able to venture off the beaten path. Having the right footwear is essential for keeping your feet warm and dry, and for helping you move more efficiently and safely on the hills. Similarly, you should have crampons that are compatible with your boots and that are appropriate for the terrain you have in mind. An ice axe is used for stability and provides secure and efficient movement in steeper terrain. It can also be used for self-arrest in the case of any slips or falls. Winter also brings additional challenges for navigation; do you have a map and compass, and are you confident about using them in a winter hill environment? Mobile phones can be a useful navigational aid, but can sometimes be less reliable in the cold.
When planning a winter mountain day, think; you and your team have the appropriate clothing and equipment for the day? It may be useful to discuss what everyone in the team is carrying for the day, so you can be assured that everyone is well-equipped and knows what they're doing. Everyone develops their own preferred clothing/personal gear admin system over time and with the benefit of learning from experience. The basic emergency equipment is a must and can be shared to reduce the load on any one individual. Spare items are also worthwhile; especially gloves!
The key proficiencies such as movement skills and ice axe self-arrests can be learned in the supportive environment of a Winter Skills course, where you can try out all the gear and gain the benefit of an experienced Instructor's knowledge and insights.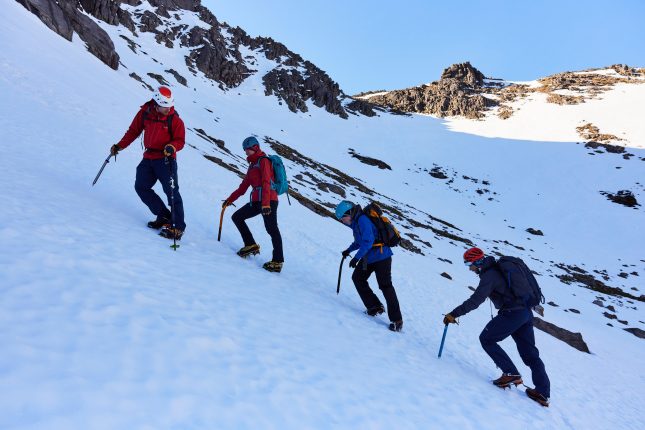 Planning
Forecast & Conditions
Look to monitor the weather and conditions during the week leading up to the winter mountain day you're planning. This can give you an impression of the conditions and is an important aspect of avalanche risk assessment. Beyond the weather and avalanche forecasts, there are various online blogs and conditions reports which can be useful in giving you actual conditions experienced and sometimes photos to compliment. It's important to think critically about the information you get online. Think about the information as a snapshot, and consider how conditions may have changed with time.
It's important to look at the wider forecast as well as local. This can help you get an overall impression of the weather throughout the mountains. Summit specific weather forecasts have become a superb source of information and can give you winds and temps to be expected at summit altitude. I use the Met Office app, and now save various mountain bases and summits. This way I can easily scroll through possible locations east to west, which can help make better decisions about route choice.
Avalanche Risk
Reading the Avalanche forecast (Scottish Avalanche Information Service) is essential, and lots can be learnt from including this in your winter mountain day planning. The avalanche forecast is an important tool to help our decision making. It's worth learning more on the subject, importantly how and where avalanches occur, and what conditions increase and decrease the risk. The key factors are the actual amounts and the type of snow, the terrain, and where the snow is accumulating.
The avalanche forecast is drawn from the weather forecast, so on those rare events when the actual weather experienced is very different than expected, you may have to make your own interpretations of the avalanche risk that day. You may have to do this anyway, if you're in an area without an avalanche forecast. If you're going to an area without an avalanche forecast, I'd recommend reading the area closest to you and a few others. This will hopefully give you 'big picture' understanding of what's happening elsewhere to help you make decisions about where you're headed.
Route Choice & Timing
Choosing your route should take a fair bit of thought when planning a winter mountain day. This will be informed by your goals, skills & equipment, the weather forecast, conditions, and avalanche risk. You'll also want to think about your timings; how long will it take you to complete the day? This is especially crucial during the short days of December and January. Most guidebooks and online routes will provide you with a suggested time taken to complete. This might also be something you become better at judging for yourself with more experience over time.
You should also consider the height gain involved in potential routes when planning your days, as this will affect your timing and energy levels. The height gain will give you an idea of the overall difficulty of the day. On average in Scotland you can expect 800m to 1200m days, especially if you're planning a Munro. Add the height gain up and allow 300m per hour of ascent. This is a quick, generous planning tool that focuses just on raw height gain to give a quick estimate. The top tip I can give you is start early. It's always useful having time in hand at the end of the day, especially to allow for unexpected changes in plan. And it will always give you time to finish the day with some coffee/tea and cake or beer!
Always have alternative plans, in case of last-minute changes in any of the factors that informed your original route choice. It's worth sharing these with the whole team, as it may also give confidence knowing there is a plan B, and that the day isn't too committing. This may be especially the case if the weather and conditions are uncertain.
Comms & Base Support
Make sure someone knows where you're planning on going; whereabouts, what your route should be, and your expected timings. This might be a friend, family, or someone trusted, and leave a route card with details of your planned day. Equally important is that they know what your late back procedure is, who to call, etc.
Within your team, are you all carrying the necessary comms? Does everyone in the team have a mobile phone, charged and protected from the elements? Alongside this, GPS systems and location devices can be useful for locating your position and notifying emergency contacts if required. Some are more expensive than others, but might be worth considering especially if you're often in areas without good reliable phone reception.
On the day
Are there any particular challenges in the day to consider? This may be changes in weather, potentially difficult stretches of navigation, or terrain en route. It's worth making this a headline for the outing and may even be something to have planned the day around. For example, an early start to make the most of a day where poor weather is due to set in mid-afternoon. Or perhaps a route section with more difficult terrain to negotiate, which would be the crux of the day. It's worth preparing for such situations, and do as much homework as possible when planning a winter mountain day. Online or guidebook research may describe difficult sections in more detail including potential images of the difficult section/rock step/gully exit etc. (tie this in with thinking more generally about route choice and timing).
Mindset & Physical Readiness
Am I ready mentally and physically for the day planned in the mountains? Am I feeling confident in my skills and ready to practice them, on my own or with my team. Are we all as a team prepared for the day ahead and ready for any challenges that may occur and up for a fun day in the mountains?
Your mindset and approach are important. I think many of us are drawn to the challenge the mountains in winter provide and the opportunities it gives us to connect even closer to nature and sometimes the most hostile elements. Having a positive and durable mindset in the winter can really help, especially when at times things may get uncomfortable. Building on your summer mountain experience, winter can really test your systems and offer new challenge. So it does help having some determination and being prepared for a bit of hard work! These winter experiences can give us so much perspective and skills, which all build and contribute to our overall relationship with the mountains.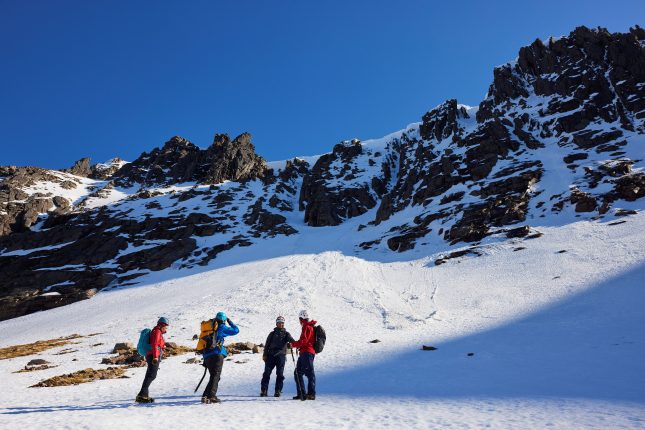 Team Spirit
If operating as a team, try and promote a healthy risk and safety culture among everyone. Create an environment where everyone feels able to contribute to the plan and the team. It's probably going to be easier in smaller teams and with friends who already know each other, and in these contexts, you may already have a good sense of team spirit. Alternatively, being in the mountains with people you know less well can be a great opportunity make friends. It offers unique experiences for everyone to learn more from.
Reflecting on memories made
This is an important stage in the process of learning through winter. Consider what worked well and what didn't work so well. This is a continual healthy process, and we can reflect on every aspect of the day. I personally find the days where something hasn't worked so well very valuable. If they happen early in the season even more so, as I can act on the mistake and improve. I also find that moment at the end of a winter day out, celebrating your adventure, achievements and reflecting on the challenges a great moment. Every day out can be different, are always interesting and can be quite an adventure. Any day out in Scotland's winter mountains will always be a great learning experience.
---
Discover Winter at Glenmore Lodge
Based in the heart of the Cairngorms National Park, Glenmore Lodge has been providing skills training to enable folks to adventure in the mountains in winter for 75 years. If you're looking to experience winter in the mountains for the first time this season, check out our 2-day Intro to Winter Skills Course.
We also offer 5-day and Advanced Winter Skills courses for those looking to develop their skills and confidence. Our experienced instructors will always work with the ability levels, experience, and goals of the group (and of course the conditions!) to help you become able to enjoy independent winter adventures.
We also deliver an array of winter navigation, mountaineering, and climbing courses. You can check out the rest of our winter offering HERE.