Avalanche Information
Whether climbing, walking or skiing, in Scotland, the Alps or further afield, avalanche awareness is an important skill to increase your safety when enjoying the mountains. There are an increasing number of resources available to the outdoor enthusiast. Below is just some information on courses, resources and information available in the UK.
Avalanche Education Talk
Below is a talk given to some of our students attending a winter training course. It is covers essential avalanche education and is ideal for anyone looking to learn or expand their knowledge so they can enjoy winter in the mountains more safely.
It is the first of a three-part series of talks that are given to participants of our winter training courses, and is followed by videos that cover planning and decision making (The Art of Anticipation), and Winter Navigation.
Our Youtube channel contains plenty more informative videos about many of the sports and activities that we run, and is an accessible educational resource for those who enjoy the outdoors.
Glenmore Lodge Avalanche Courses
We offer a range of avalanche and safety courses across the UK. All of our winter courses include elements of avalanche awareness but we also have courses specifically focused on avalanche issues, including the following:
Avalanche Awareness for Mountaineers and Climbers
Avalanche Awareness for Hillwalkers
Avalanche Awareness for Tourers and Freeriders
To learn more about these courses, follow the above links to their respective pages on our website or check out these short introductory videos on our Youtube channel for a taste of what they have to offer.
Scottish Avalanche Information Service
The Scottish Avalanche Information Service (SAIS) provides daily forecasts of the avalanche, snow, and mountain conditions for the 5 most popular areas of Scotland. If you witness an avalanche then please report it to SAIS.
It can be good practice to regularly read their reports so you learn to understand their descriptions and useful graphics, while building up a long-term picture of conditions in the hills before planning your route.
Be Avalanche Aware
This SAIS web resource outlines a guideline for the decision-making processes and fundamental considerations of assessing avalanche hazards on the hills.
Be Avalanche Aware – eLearning Course
The SAIS's Be Avalanche Aware resources are now accessible through a free online eLearning course on Teachables. It provides an important introduction to the useful decision-making tool for all winter mountain users.
Mountain Weather Information Service
The Mountain Weather Information Service (MWIS) produces regular reports that are available online and will help you understand recent weather patterns to help you build up a more accurate picture of the weather, helping you decide how to take the safest routes.
For easily accessible updates, you can follow them on Twitter as well.
Avalanche Transceiver Training Park
Glenmore Lodge is home to the world's first permanent artificial avalanche transceiver training park. The park is specifically designed to help develop the avalanche transceiver skills of winter mountaineers and ski mountaineers of all abilities.
Recent investment has seen the park upgraded to a Pieps Avalanche Rescue Training facility, which you can read more about here.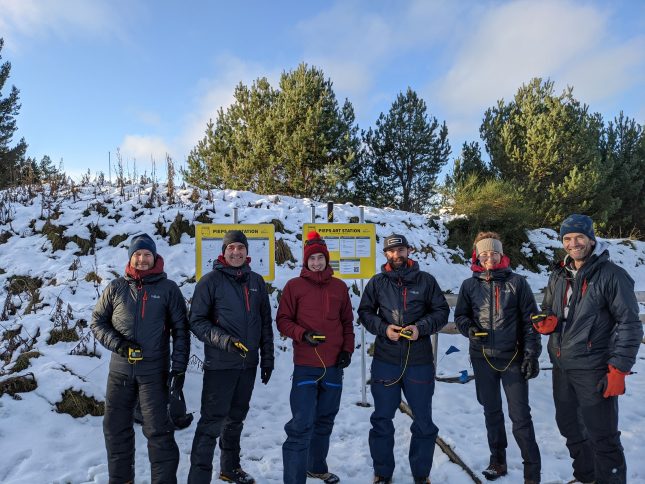 Glenmore Lodge Avalanche Training Research Paper
Glenmore Lodge undertook a 3 year study into the effectiveness of Transceiver, Shovel, Probe training. This forms part of an ongoing study by Glenmore Lodge. Our findings can be downloaded from our Industry Research Papers page.
Avalanche Planner Tool
Click here to download a copy of the group avalanche training tool. It is regularly used in avalanche awareness education and forms the crucial first step of the Be Avalanche Aware decision-making process.