Summer Alpine: About Our Programme Location
Sass Grund, Valais, Switzerland
Switzerland, and especially the Valais region, is home to some of the most impressive ranges of Alpine mountains anywhere. Accessibility, infrastructure, and world class mountains make this place a must visit/climb destination, with plenty of wild areas to explore too. The Saas Grund/Saas Fee area of Valais is home to many fairly accessible 4000m peaks, combined with a superb mountain hut network and Swiss mountain villages and towns such as Zermatt, Saas Fee and Saas Grund.
Many Alpinists make this a go to location year on year, so it's always fun and exciting meeting folk from all over and hearing all about their mountain adventures. Saas Fee/Saas Grund is where I first experienced the bigger alpine mountains, and learned all about alpine mountaineering and the 4000m peaks. I had great role models as good friends, and we spent weeks ticking off some of the 4000m mountains and having big adventures along the way too.
The mountains and the small historic Swiss villages make this place feel very special and mostly quiet in summer, Zermatt and Saas Fee are real mountain locations with big mountains giving stunning views in all directions. It's easy to find quiet areas and get that remote feeling too; depending on your chosen adventure, the Valais mountains have it all.
.
.
Why Saas Grund for our Alpine programme base?
I lived in Saas Grund when I was an aspirant Guide, working alongside experienced Mountain Guides and learning the trade. It sits just below Saas Fee, the ski resort that like Zermatt, is car free with only electric buggies to get you round the village. There's a real mountain life community and spirit in the village with generations of families connected to the mountain life and work. Saas Grund is also a great access point to the mountains with a cable car, mountain shops, cafes, supermarket and all the other usual resources found in a Swiss mountain resort. There is a regular post bus up to Saas Fee throughout the day, which also provides access to further up the valley too.
Saas Grund has long been a go-to place for mountains and professional guiding. The mountains and climbing routes here are very accessible, of excellent quality, and offer a full range of options. Saas Grund is famous for its many 4000m mountains, but there's also good mid-mountain multi pitch rock climbing, stunning valley walks, big north face climbs and long high-altitude ridge traverses to be found. You can find some of the easiest and most accessible 4000m mountains as well as some of the most difficult, which makes the area a base with many options and possible adventures. From your Alpine beginner to your experienced Alpinist, there's something for everyone.
.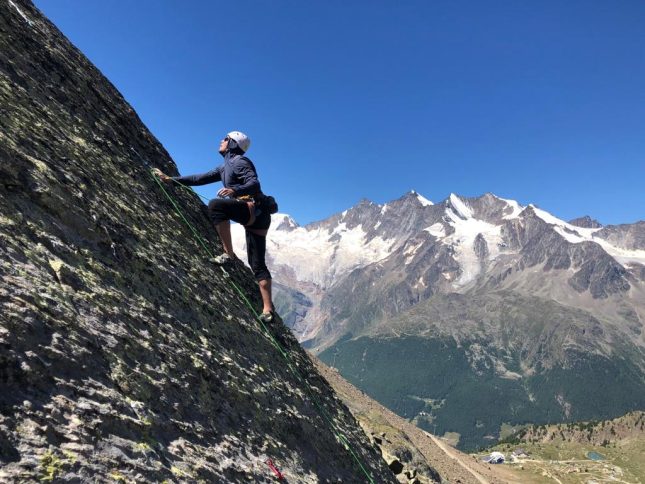 .
Our base in Saas Grund is a small hotel called Pension Heino, a family run business that has looked after alpine climbers and trekkers visiting the area for a long time and really understands what the alpine mountaineer needs as a valley base. There is always a warm welcome and very comfortable stay with excellent food, all the home comforts and luxuries required to rest and relax between adventures, plus a central location with most shops, bus stops and the cable car all in walking distance. All our initial meeting and greeting takes place there with a small bar and beer available, with plenty of space for planning and reflecting, usually done outside in the sun and/or during dinner. Pension Heino serves as an excellent base, flexible where possible and always helpful, which makes it a real asset to the programme. We're already looking forward to staying there again in summer 2023.
Not only is it a special place of great mountains and history, with lots of adventures and places to explore, there is the special mountain community of friends who live and work in the area too. Each mountain hut has its own community and character, most are family business, and all have important history and how they have connected and been part of the mountaineering culture for so long.
.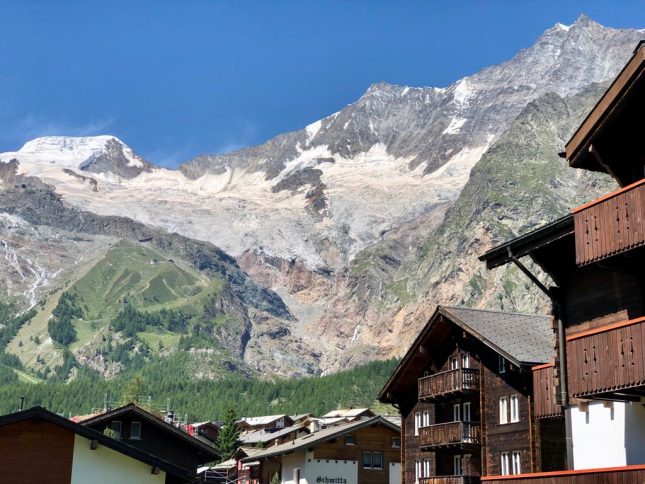 .
Due to its position in Switzerland that little further East, generally any weather approaching from the West may have less effect by the time it reaches the Saas Fee region. One of the great reasons for using Saas Fee/Saas Grund as our alpine location is the broad range of good mountains and itinerary options to choose from. Outside of the valley, the distance to equally good alternatives isn't unreasonable either. A valley over from Saas Fee you'll find places such as Zermatt and Tasch, which are only a short drive away and home to many 4000m mountains including the Matterhorn.
All our alpine courses have suggested course programmes, and these show the planned routes and mountains in mind. It's always important to retain some flexibility for weather and conditions and any decisions and plans will be shared with the team continually. There are many mountains including 4000m peaks that can be accessed from Saas Grund/Saas Fee, and the ones most likely/an option on our Saas Fee Alpine Mountains 4000m and Swiss Technical Summits courses include:
Weissmies 4017m, Lagginhorn 4010m, Nadelhorn 4327m, Alphubel 4206m, Allalinhorn 4027m
.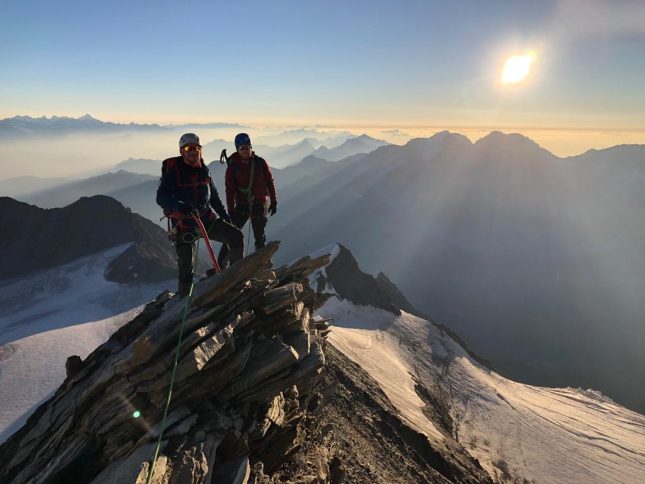 .
How to get there…
If flying from the UK, I'd recommend flying into Geneva and from there you have the option of using the train or car hire too. The rail network in Switzerland is very impressive and reliable and to get further to Saas Grund you will have to get a post bus from Visp as a connection. Again, the post bus system in Switzerland is equally impressive, well used, and reliable. From Geneva allow approx. 3.5hrs Train and bus connection to Saas Grund.
Driving can be a good option for those intending to stay longer and who are looking for flexibility. The longer drive out can be broken up by staying somewhere on the way maybe. In the past I've stopped in Fontainebleau (near Paris) bouldering for a couple of days which broke up the journey well. Driving can be popular for those with camper vans too, providing ready accommodation on campsites or roadside options too.
The train can be a direct option too, an after speaking with others last summer it proved to be good. It may require maybe more planning depending on your start destination, but is definitely worth considering. Once in Switzerland, the trains are very well set up for the outdoor lifestyle, with plenty of storage space and room for bikes and other outdoor equipment.
Saas Grund is a perfect base for all levels of Alpine climbing and mountaineering. Combined with using Pension Heino as our base we feel lucky to be in a great location and setup delivering our Alpine programme. We are already looking forward to the Summer 2023 Alpine programme and meeting everyone in Saas Grund and having mountain adventures with us during your stay in this amazing place.
.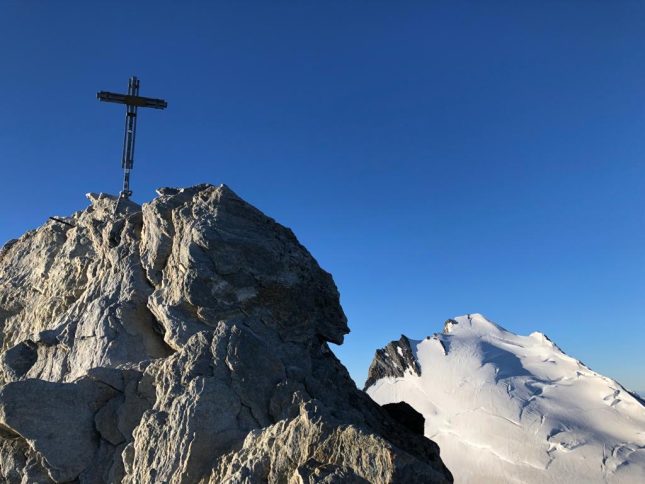 .
---
ABOUT STUART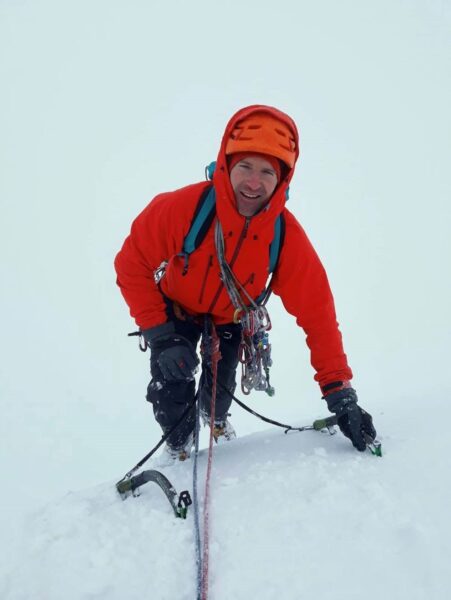 Originally from Northern Cumbria I started out hill walking in the Lake District when I was at school. I soon become interested in rock climbing and mountaineering, and was lucky enough to work and climb with Mountain Guides during my first job leaving school. Since then I've been working full time in the mountains for around 20 years.
At the same time as working, I enjoy climbing in my free time and have been lucky enough to go on many expeditions around the world, climbing new mountains, first ascents and tough remote summits. Places such as Patagonia, Alaska, Himalaya, Peru, Baffin Island, Yosemite and China. In 2004 I was nominated for the prestigious Piolet d'Or in Grenoble, France, for a 1st ascent of the 'Supa Dupa Couloir' in Alaska.
I love my job as a Mountain Guide, teaching and exploring big mountains in all weather all year round. I joined the Glenmore Lodge team in 2019 and head up the Summer Alpine programme.