Q&A with Glenmore Lodge Mountain Biking Instructor Ross Creber
With the UCI World Championships on the horizon, we're pretty excited to soon be seeing so many bikers from around the world competing in Scotland and finding out what a great place it is for cycling. We asked Glenmore Lodge Mountain Biking Instructor Ross Creber, former Team GB cyclist, a few questions about what he's looking forward to about this summer's events, competitive biking, and the benefits of a MTB skills course.
Tell us a bit about your background as a professional cyclist, before you became an Instructor in the outdoors
When I left school at 17 after doing my Highers, I drove straight from my last exam down to Manchester to start a new life chapter as a professional cyclist for Team GB. I was based in Manchester, living alongside some of the biggest names in British cycling such as Cavendish, Wiggins, Hoy, Thomas & Pendleton.
My discipline was cross-country mountain biking, although I trained a lot on the road and on the boards of the velodrome. During the race season I was constantly travelling between events and training camps. The big focus for the year were the World Cup rounds, World Championships and National Champs.
I thoroughly enjoyed the incredible places my cycling took me and the people I met along the way, many of the places I have returned to as a rider to experience the trails again in a more relaxed atmosphere!
What are you looking forward to about the UCI World Championships being in Scotland this summer?
For me, I'm super excited that Scotland is hosting the first ever combined UCI World Championships. The world's best will arrive in Scotland to compete for a rainbow world champion's jersey across cycling disciplines from downhill mountain bike to time trial.
The cross-country is taking place at Glentress, which is where I first got into mountain biking as a kid. I have so many memories of riding there, including taking my first national title as a junior. To watch the world best competing there will be spectacular.
I am also really looking forward to these World Championships putting Scotland in the spotlight for all things cycling. I'm sure this will have huge positives for cycling in Scotland across all ability levels and disciplines.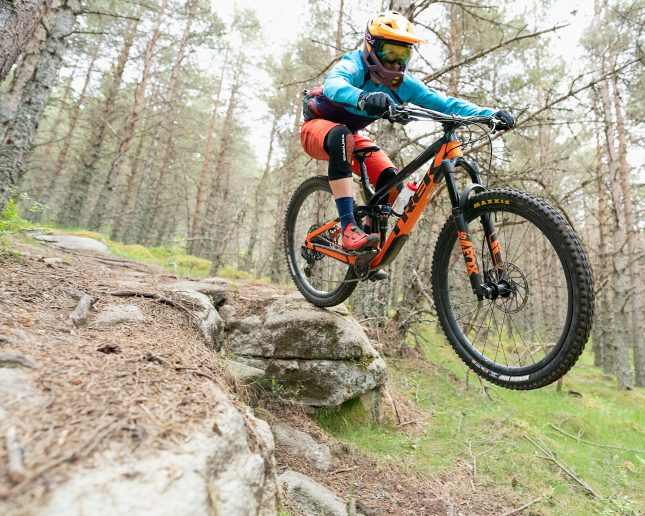 Do you have any advice for young people wanting to get into competitive mountain biking?
If riding a mountain bike puts a smile on your face and gives you a buzz, then you should go for it and have a look at the British Cycling events calendar and try a race. The races have a category for all age groups and abilities and they're super welcoming and such good fun! There are also lots of great mountain bike clubs out there for younger riders that offer coaching, led rides, race support, and so much more.
For the ordinary mountain biker, what's the benefit of getting skills coaching or attending a course?
Attending a coaching session or booking onto a riding course will unlock the next level in your riding. It can enable you to get so much more from the trails, ride features you thought were beyond you, and you get to experience some epic riding as part of it.
What's your favourite mountain biking route in the Cairngorms?
For me, I love to get high into the mountains on a bike to experience the adventure, remoteness, and the excitement of flying down a mountain trail surrounded by jaw dropping scenery. A particular favourite route of mine is riding down Glen Feshie following the trails through the forest on the banks of the mighty river Feshie. Then turning left and climbing up to above 1000m, and ticking off the two Munros of Mullach Clach a' Bhlair and Sgòr Gaoith.
Riding along the Sgorans ridge looking steeply down to Loch Einich and across to Braeriach is just surreal! Then you are rewarded by a brilliant descent back into the valley.
---
Mountain Biking at Glenmore Lodge
Inspired by the upcoming UCI World Championships to take your mountain biking to the next level with some skills coaching? Check out our trial riding courses! Whether you're new to mountain biking or pushing to go faster and ride harder technical features, our Instructors can coach you to achieve your goals.