New Blue Trail at Laggan Wolftrax: Opening Wednesday 18th October
Last week some of us from Glenmore Lodge took a morning trip to check out the new blue trail at Laggan Wolftrax. Over a coffee in the café, we caught up with Business Development Officer Cristian Pizarro about the process of creating the new trail. Of course, we then had to head out on our bikes to check it out for ourselves!
This exciting development will expand the offering at Wolftrax, by providing a progressive option that sits between the friendlier green trails and more challenging reds. On our way up the new and interesting ascent route, we were able to take in the brilliant views of Badenoch in their autumnal colours and with plenty of wind and rain showers to show-off the dramatic landscape. The new blue trail at Laggan Wolftrax is positioned adjacent to a red trail, which it's hoped will facilitate interaction between riders and encourage progression.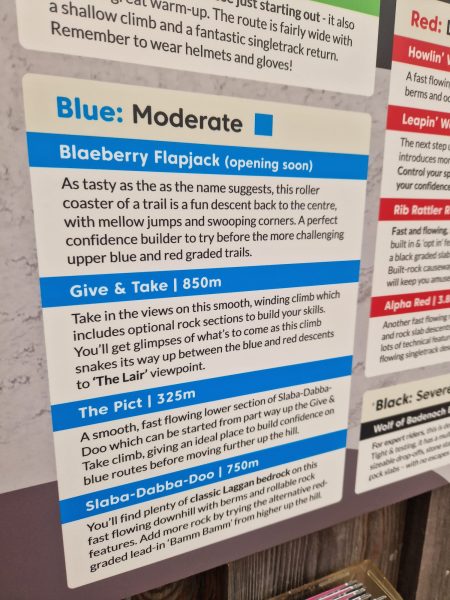 Making use of natural terrain features that presented some unique challenges for the build team, the new trail is both awesome to ride and a great asset for Wolftrax. With a few optional more technical challenges along the way, the trail encourages progression and enables you to build your skills.
We are extremely grateful to have had the opportunity to work alongside Ruari Watt from Development Mountain Biking in Scotland and CRC Trails in delivering this project. From the outset we envisaged a progressive and fun trail suited to a variety of riders and skills levels, and we believe the result speaks for itself. This project has seen an impressive collaboration between a local community group and government agencies, and we wish to thank to the funders: The Laggan Forest Trust, sportscotland, Cairngorms National Park Authority, Forestry and Land Scotland, Highland and Island Enterprise and the Badenoch and Strathspey Trail Association.

Cristian Pizarro, Business Development Officer at Laggan Wolftrax
Badenoch and Strathspey Trail association has assisted with the funding, allocating some of the Capercaillie Project money promoting sustainable route choices as an alternative to reduce impact on sensitive trails. The association will assist with ongoing maintenance at Wolftrax, and a team from the association also helped build a hand built connecting section within the new network of trails.

Emma Holgate, Badenoch & Strathspey Trail Association Chair
We're stoked to see the new trails open later this week, and our MTB Instructors are keen to get out with our trail riding skills course groups to make use of them!