Sustainability & Our Partnerships
When it comes to forming partnerships with others, their approach to operating as a sustainable business is integral to our decision making. We're committed to continually seeking ways of reducing our impact on the planet and want those we work with to share that commitment and desire to work towards the protection and restoration of the nature.
.
Rab – Lowe Alpine:
Rab and Lowe Alpine are a Climate Neutral Company for the third year running, on their journey to be Net Zero by 2030. As providers of clothing and rucksacks for our staff, it's important to us that the kit is both suited to the jobs we need it for and has a minimal impact on the environment.
They're reducing the impact each product has on the environment. Since 2019, they've reduced greenhouse gas emissions per product by 17.4%. Swapping virgin materials for recycled alternatives where possible. In fact, they now buy more recycled fabric and recycled down than virgin. They've also stopped using silk. A hugely carbon intensive and inhumane material to use.
Like us, they know kit gets damaged on the hill. That's why they've expanded their Service Centre globally. Now having local teams servicing the UK, EU, USA and Canada. You can send your wounded kit, or dirty apparel to them to repair or wash.
They're on track to eradicate fluorocarbons from their products by the Winter 2024 season. Never compromising on performance. Lowe Alpine stopped buying fabric with fluorocarbons back in late-2019. All Rab's virgin down RDS certified. The RDS independently certify down against animal welfare requirements and tracks it from the source to the final product.
Importantly, Rab and Lowe Alpine are members of Fair Wear Foundation and committed to improving working conditions for workers. Not only abroad, but in their UK factory too, where they fill their down sleeping bags and make their expedition clothing.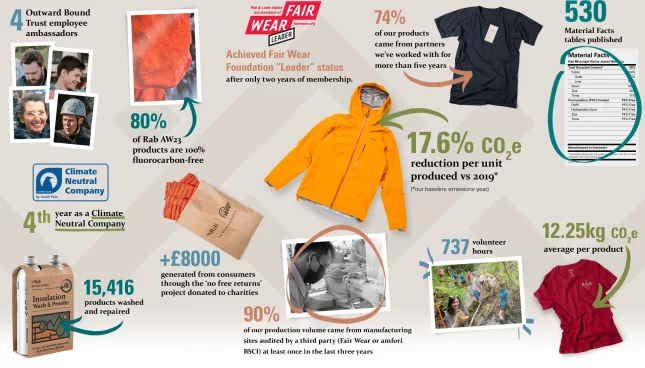 Rab is Climate Neutral – Rab® UK
For Winter 2023, Rab have launched Material Facts to provide clear and comprehensive information about what their products are made from and where. This level of transparency allows us to know exactly the impact of the kit we're choosing to use
.
Scarpa:
Scarpa has always been committed to producing its boots in a sustainable and ethical fashion. In July 2021 they re-asserted the importance of sustainability to the business in their 'Green Manifesto'.
90% of Scarpa's production chain is based in Europe and their mountaineering line is produced entirely in Italy, guaranteeing high regulatory standards. Scarpa own 85% of the factories that their products are manufactured in, which allows for precise and direct control over the social and environmental impacts of their production processes.
Scarpa's buildings have photovoltaic systems installed which produce approximately 400,000 kWh of energy, equivalent to 320 tonnes of C02 emissions per year, and its operations are powered by 100% renewable sources.
Using innovative technologies and processes, biodegradable and plant-based materials, non-polluting water-based adhesives, and recycled paper packaging, Scarpa is working towards delivering reliable and high-performance products while being sensitive to the environment.
Scarpa is pursing certified B Corporation Status, and hope to achieve this in the next year. Certified B Corp status reflects adherence to the highest international standards of social and environmental performance, transparency, and accountability.
.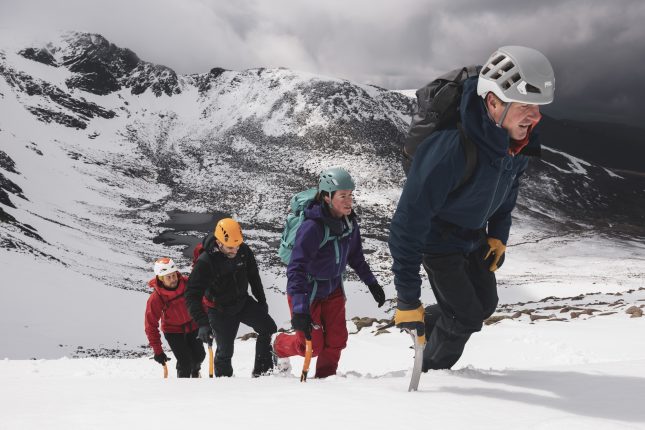 Petzl:
Petzl are committed to reducing their carbon footprint by 50% by 2030 and have published a breakdown of which sections of the business have the highest emissions. In order to reduce their emissions, Petzl have committed to designing low-carbon products using raw materials that have a lesser environmental impact than the industry standard materials.
In 2019 they took an inventory of the waste produced by their operations, finding that it primarily consisted of 190 tons of cardboard, 100 tons of plastic, 90 tons of metal, and 60 tons of wood. Today, more than 95% of waste is recovered, of which 65% is achieved through recycling and 30% through energy recovery.
By 2025, Petzl are aiming to:
Reduce single-use plastics in packaging and factories to zero
Reuse at least 50% of cardboard and pallets
Recycle at least 80% of materials
.
Vango
Vango have been pro-actively striving to make their business more sustainable for over a decade. In 2021 their Earth Collection recycled plastic waste equivalent to 1,861,134 plastic bottles, which increased in 2022 to the equivalent of 8,250,000 plastic bottles. As part of making their product design and development process more sustainable, Vango are working to develop environmentally friendly alloy poles, have replaced harmful waterproofing treatments with better alternatives, and removed unnecessary packaging and single-use plastic.
Alongside this, Vango offers a Spares and Repairs Service that refurbishes customers' outdoor gear to give it a second life of adventure. In the first instance, products are designed to last. But inevitably the wear and tear of adventures and memories made can have its toll, which is when you can send your tent to be repaired. When anything is beyond repair, all component parts are recycled for use in future repairs, and as much of the remaining fabric as possible is upcycled to reduce landfill. This includes tent fabrics and sleeping bag fillings that are donated to Sheltersuit UK to be upcycled into immediate shelter for the homeless.
Learn more about the Spares & Repairs Service here: Vango Spares and Repairs Service – YouTube
Peak UK:
Over the last few years Peak UK's product design process has placed new emphasis on the use of recycled fabrics and to reduce waste products. In 2019 they launched their award-winning Peak Eco Range; a collection of products made from fabric containing 55% recycled yarn and completely without plastic packaging.
2022 saw Peak UK set a new bar with the launch of their Evo range, in which all items are constructed from 100% recycled fabric and feature recycled pocket zips and sustainable 'bioprene' neoprene seals. Peak UK have also stopped using PVC on products such as nylon decks and dry bags, and a large majority of their products are now fully made from recycled materials.
Today Peak UK is focussed on creating longer lasting, more durable products that lead to less waste, less landfill and less energy consumption.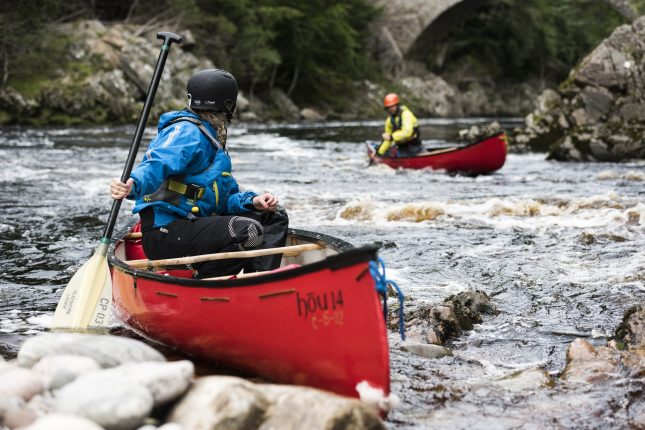 .
Trek bikes:
Trek recognises that even though their products are hugely beneficial to people and the environment, their production still has an impact on the planet. In 2020 they conducted their first emissions audit to better understand their impact and plan to become more conscious and sustainable. Using this data as a baseline metric, they have identified the areas of greatest impact to focus their improvements on.
Trek is focused on ten specific areas to reduce their footprint:
Reduced use of air freight
Consolidated shipments to retailers
Increased use of renewable energy
Reduced corporate travel
Increased use of alternative materials
Create zero-landfill manufacturing capabilities
Establish and protect new trails
Remove plastic waste from packaging
Increase access to bike share
Shift to cycling modeshare
The Rule of 430 demonstrates that although bikes are an excellent way to minimise our impact on the planet, their production still has environmental costs that Trek are committed to minimising.
If you cycle about 430 miles that you would otherwise have driven, you've saved the carbon equivalent of what it took to make your bike.
In 2017 Trek became a founding member of NextWave Plastics, a group of brands seeking practical solutions to the plastic plaguing the ocean. They're aiming to double the amount of recycled material in their products by the end of 2022, and since 2020 have removed 196,680kg of plastic waste from their packaging.
You can find more information on Trek's environmental impact and how they're seeking to improve, including a full break down of the carbon footprint of their four most popular bike models, below: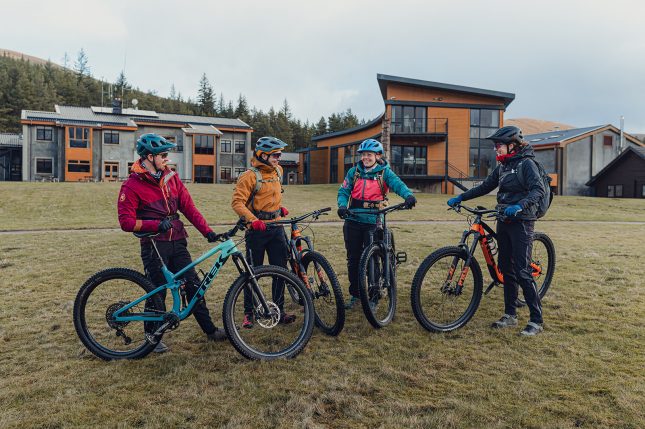 .
Endura:
Endura are striving to become CO2 negative by 2024 and have planted 1.3 million trees since launching their One Million Trees Initiative at the start of 2020. This includes 85,000 native species planted with the guidance of sustainable forestry experts to create a new woodland near Drymen, Stirlingshire.
Many of the fabrics typically used in cycling apparel are made of synthetic fibres, which are derived from fossil fuels. By increasing the use of recycled polyester and nylon, Endura are reducing the amount of these materials sent to landfill or otherwise dumped into natural environments. The recycling process also uses fewer resources than producing virgin fibres, further reducing C02 emissions. Endura's latest collection of MTB jerseys has been developed using recycled yarns.
Since Autumn 2018 all Endura products have been free of PFC; per- and polyfluorinated chemicals which are man-made and harmful to the environment. Endura garments are instead treated with a more environmentally friendly alternative durable water repellent, allowing users to re-proof their clothing to maintain performance while protecting the planet.
Endura has a tradition of manufacturing its products in the UK and offer a non-warranty repair service to extend the life of your product. By designing kit that's built to last and withstand use, Endura seeks to reduce the environmental impact of their product while providing durable cycling apparel.
Sustainability (endurasport.com)
.
Atomic:
Atomic skis are produced at the Amer Sports ski factory in Altenmarkt, Austria. As one of the largest ski factories in the world, it's crucial that it's operated responsibly and sustainably. The factory's electrical power consumption is 100% renewable and is highly energy efficient, with insulation, infrastructure and heat recovery systems that reduce the energy needed for heating by 50%.
Skis are made from several raw materials, and although the manufacturing process for Atomic Skis operates efficiently, there is still waste output. The Amer Sports factory has an award-winning waste management system that crushes waste material into small particles that are easy to pack, transport and recycle in other industries.
Learn more about Atomic's sustainability strategy here: Strategy | Atomic Great Britain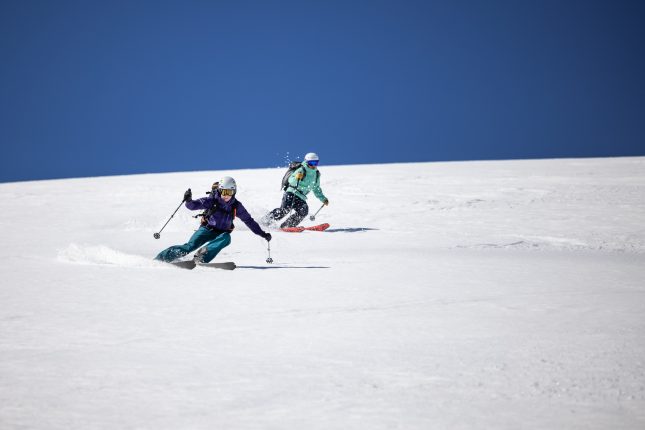 .
Leki:
Leki provide our staff and students with walking poles to improve their safety and comfort when out on the hills. The majority of their manufacturing takes place in Europe, enabling local supply chains and short transport routes that have a lesser environmental impact. Leki produces many of its products in its own factories, ensuring quality and longevity are at the heart of the manufacturing process, while investing in state-of-the-art facilities that meet the highest standards in occupational safety, energy efficiency and environmental compatibility.
.